Happy holidays everyone!
Everyone knows that this week is the week of holiday parties if you work the office life as I do. This week is filled with 5.. count them 5 different holiday parties. This blog is just to talk about the first 3 because the last 2 are going to be the real doozies.
Now dont get me wrong.. I absolutely looove Christmas parties, its a time where everyone just gets to hang out and talk as people and not as coworkers. That doesnt get to happen often. On Monday, we did our annual card signing party in which everyone in our office sits down and hand signs about 150 cards that go to various people around the University. Its always a good time and by the end of it your messages of "happy holidays! Love, Mackenzie Farone" widdle down to "M. Farone" because you just get sick of writing it over and over again.. but of course what holiday signing party would be complete without food? So, there was a huge box of assorted cookies from Einsteins.
Imagine these two cookies plus 10 more

Tuesday, landed me smack dab into my first real Christmas party for our Arts and Sciences department which they had catered with some beautiful Italian/ Pittsburgh inspired foods. Now if you arent from pittsburgh let me tell you what "Pittsburgh staples" are when it comes to food.. You've got perogies and italian sausage sandwiches. Luckily I am not a huge fan of either of them so that was an easy choice. I kept mainly to the small portions of Rigatoni, vegetable platters and cheese and crackers. Their dessert tray sucked me in because they offered small cookies. You shouldnt deny yourself something you really want so I went for a tiny cookie and enjoyed every minute of its mapley goodness.
Here is the group talking and having lunch.. Great group of people!

  Wednesday was our "Staff and Faculty Appreciation Party" which was in the grand ballroom here on campus. I remembered it from last year.. its for everyone in the entire University and they go all out for it. There are multiple stations with appetizers like crab cakes, spinach artichoke dip, Buffalo chicken dip,etc to a dessert table with a chocolate fountain and everything you could ever imagine to dip in it plus all sorts of other desserts. I kept everything small and tried to pick high protein choices.. pasta reared its head again though and I had to try out the chocolate fountain!!
This is just the center table in one room.. there were about 6 other tables and another room full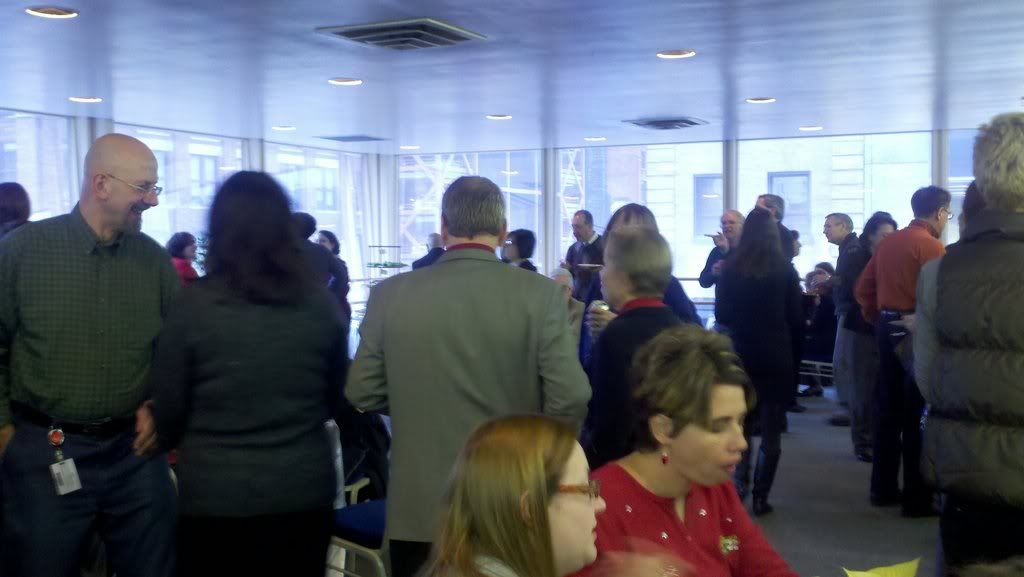 This was the 2nd room and my attempt to get a shot of the choc fountain.. way too many people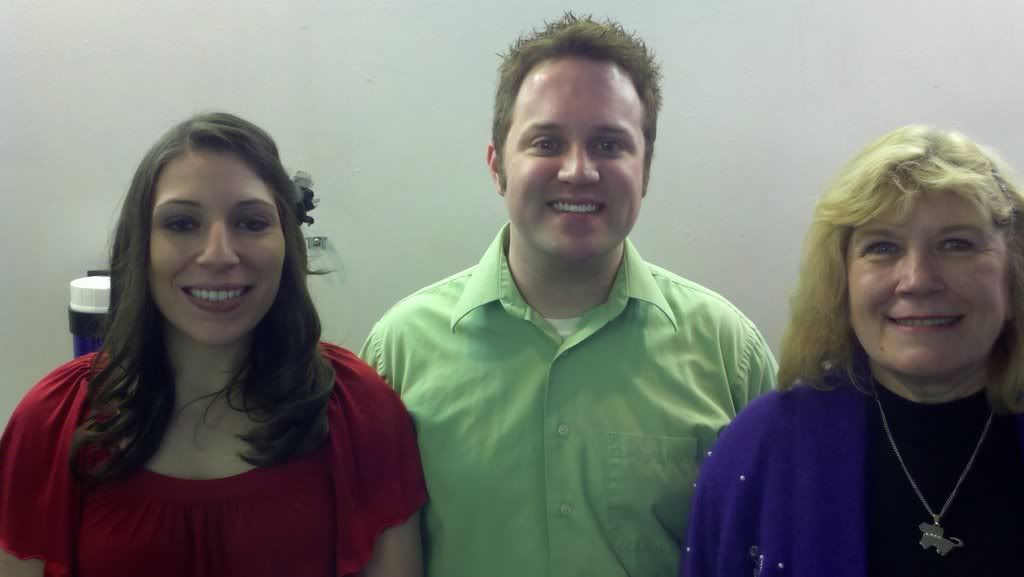 Me, Jordan and Pam from my office.. I look like Im squinting!
The president gave a speech about how appreciative he was for all the work we had done. Its a very nice affair and full of nutritional pitfalls thats for sure. There wasnt much there at all in the way of healthy options that I liked.. cold asparagus, tiny little wraps ( I dont like wraps the consistency grosses me out) and some fruit.
Tonight is a cookie/dessert party with some of my amazing girlfriends which I am really looking forward to! and tomorrow is our actual office christmas party which is at Bucca di Beppo and is a lot of italian food all served family style. I have survived the first half of the week by keeping portions small and exercising every day.. Its all you can do. Dont deprive yourself of something you want but dont overindulge either I guess will be my motto for the rest of the week.
More pictures to come!..